If you're thinking of becoming a school psychologist in India but just don't know how to go about it, then fear not! You are at the right place. This article will discuss how to become a school psychologist in India and what they do.
School psychologists promote a healthy school environment and guide students to maximize their learning abilities. They work closely with school administrators, teachers as well as parents. The job of school psychologists is to help students develop their academic, social, emotional, and behavioral skills that will allow them to attain academic success in life.
School psychologists study students and the way they learn. By incorporating elements of development, child, and adolescent psychologies, these psychologists investigate the aspects that impact how students learn and how teachers teach. They also assist students individually to highlight their strengths and address their weaknesses, including difficulties with learning or behavioral issues and school life problems.
What is a School Psychologist in India do?
School psychologists collaborate with students as well as teachers, parents, and other community mental health professionals to tackle behavioral and learning issues. They can assist at-risk students, instruct educators on providing secure classrooms, and teach parenting skills to children. School psychologists can also conduct psychological assessments and suggest programs for struggling students.
They also conduct a lot of tests, mostly of children who have problems at school. The goal is to identify the issue and sometimes suggest solutions to the issue.
Many school psychologists conduct studies on topics such as the management of behavior, mental health interventions, and effective teaching. They implement research with research-based policies and programs.
Although most school psychologists are employed in schools, some might find work in colleges, mental health centers, or even residential treatment centers.
Skills of School Psychologist in India
School psychologists should possess specific professional skills and capabilities regardless of where they work. Professionals in this specialty often diagnose and treat students' learning disabilities and mental health disorders.
Complex decision-making and sound judgement
Information technology skills
Sensitivity to privacy concerns
Critical thinking
Data analysis and evaluation
Understanding of child psychology
Knowledge of broad and acute spectrum
Behavioral disorders
Knowledge of common learning disabilities
Understanding of adolescent psychology
Interpersonal skills
How to Become A School Psychologist in India?
Step 1: Choose for any stream with Psychology in the 12th grade.
You are free to choose from any of the streams in the 12th class, but you must be sure to include Psychology as one of your subjects (not required). The PCB stream could also give you certain advantages in dealing with the neurophysiological and physiological aspects of Psychology.
Step 2: Pursue B.A/B.Sc in Psychology or Applied Psychology for 3 years
The next step of your education is to pursue Psychology in your undergraduate degree. The ability to understand areas such as general psychology, abnormal psychology, psychotherapy, statistical psychology, and personality is beneficial for a career in the field of counselling.
It is also recommended to take on as many of your internships in the field of counselling as you can to gain hands-on experience watching the day-to-day duties of a counselor. It also shows commitment to the profession and may get you in touch with experts who can aid you in developing your necessary skills.
Step 3: Pursue M.A/M.Sc in Counselling Psychology/Psychology/Applied Psychology for 2 years
To gain practical knowledge of your area and specialize within counseling, you'll require master's degree. Additionally, you'll complete internships and dissertations to satisfy the requirements to earn the degree.
Admission to various colleges is based on the entrance exam or your graduation marks as well as an interview. A lot of institutions let you pursue psychology as a subject to earn your master's degree, even if you've never had a degree in it in the undergraduate degree.
Step 4: Find the School Psychologist Position
After meeting educational requirements, school psychologists can look for jobs in their field. A majority of school psychologists work in schools; however, they also have jobs in preschools and student wellness centers.
Scope for School Psychologist
Primary Schools – School psychologists assist children in overcoming their fear of attending school, deal with the negative effects of bullying, tackle issues with self-discipline, improve the skills of students, address writing and reading issues, and increase confidence in themselves. They also conduct psychological tests.
Middle and High Schools: Pre-teen and teenage students in schools often have the benefit of guidance from school psychologists, who can assist with issues scheduling their time well or falling behind with class; anxiety and depression and those who experiment with alcohol, questions about sexuality and suicide thoughts; issues with communication; and who are facing difficult situations such as divorce, death or the anxiety that can arise when applying for college.
College & Universities: School psychologists help students in collegiate settings facing issues including alcohol and drug issues; thoughts of suicide, concerns about their abilities; and stress-inducing circumstances, such as maintaining their grades, staying in college, dealing with the death of a loved one or a loss of employment following graduation.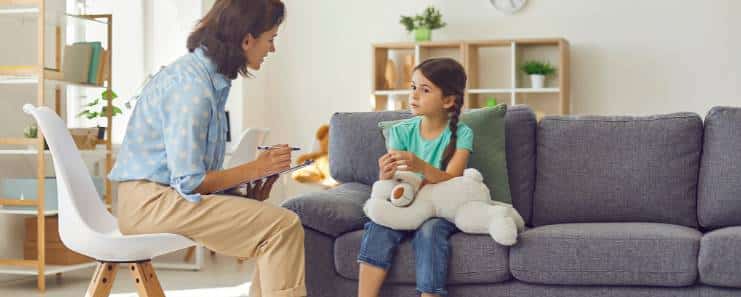 Summing Up
In addition to the basic degree requirements, you will also need certain personal qualities like empathy, interpersonal skills, patience, resilience, good listening and communication skills, and an immense passion for doing good for others.
So if you have decided that you want to build your career in psychology, step forward and be the person children can turn to in times of trouble. All the best!
Also, Read
How To Know If You Need A Psychologist | 11 Signs You Need A Psychologist
How To Become Mentally Strong? 11 Tips To Become Mentally Strong
How To Impress A Girl? | 9 Psychological Tips To Attract Women