Are you looking for the top 10 mental health apps of 2020?
Hi, I am Dr. Neha Mehta (Consultant Psychologist). In this post, we are going to discuss mental health applications available for Andriod and IOS users.
Although most mental health practitioners probably don't recommend people to spend more time with their smartphones. Yet there are some apps that are designed to help those struggling with issues; such as depression, anxiety, while others are based on positive psychology.
Research says, 90% of users reported improvement. Increase in confidence, motivation, intention, and attitude about their mental and emotional health.
If you are struggling with your mental health, Then it is necessary to first seek help from a doctor, psychologist, or mental health practitioner. These apps are not as efficient as a psychologist but they can be a great complement to therapy
Let's talk about the 10 best mental health apps:
List of best apps for mental health:
Calm
CBT-I Coach

Simple DBT Skills Diary Card

Sober Time

Letgoh App

Innerhour Self-Help & Therapy

Rootd

UP! – Depression, Bipolar & Borderline Management

Headspace: Meditation & Sleep

Aura: Meditations, Sleep & Mindfulness
Calm is a mental health app that addresses specific areas of life such as anxiety, focus, self-esteem, and self-care.
Features of Calm App:
| | | |
| --- | --- | --- |
| features | Free | Paid |
| Guided Meditation | No | Yes |
| Daily Calm | No | Yes |
| Calm Body | No | Yes |
| Sleep Stories | No | Yes |
| Calm Music | No | Yes |
| Calm Masterclass | No | Yes |
| Breath Bubble | No | Yes |
Free vs Paid features of Calm: Mental Health App
A 10-minute daily calming program is added that helps you relax on a new day or before bedtime.
7 to 21-day programs available for beginner to advanced levels.
World-renowned experts give calm masterclasses that can help you change your life.
It includes breathing exercises to help you relax.
Specific music is included to help you concentrate, relax, or sleep.
30+ soothing nature sounds and scenes to use during yoga or to help you sleep.
Review: Calm App

It is a great mental health app for beginners as well as for mid-level and advanced users.
Calm App is free to download and use, but a paid subscription is required to access more content.
Day counter that tracks how long you have been clean and sober. There are over 10 unique ways to showcase your progress with personal and community facilities.
Features of Sober Time – Mental Health App
It helps to track relapses and to share progress.
This app provides you with daily notifications that keep you on the path to sober recovery.
It can help to track as many addictions as anyone wants.
It helps to count sober days and track sobriety.
This app is fully customizable and shares your progress.
It includes daily inspirational messages.
Review:
It is an easy reminder of sobriety.
This is a great app to track sobriety from multiple addictions.
It tracks, provides positive reinforcement and keeps motivated.
Self-Help Therapy is an app that offers courses on happiness, depression, anxiety, stress, anger & sleep concerns.
Features of Innerhour Self-Help & Therapy App:
This app creates a 28-day customized plan to see what you need to work on.
Helps in learning new skills through simple, interesting activities.
It identifies mental health difficulty at the moment and offers simple activities to feel calm immediately.
It helps to set and track goals.
Review: Innerhour Self-Help & Therapy App:
Innerhour app provides mental coaching and its features like journal , courses and chatbot are awesome. This app is very helpful because by giving notifications it reminds of what someone scheduled for that time.
App is free to download and use from Google Play store or IOS.
This app is for those who suffer from debilitating panic attacks and anxiety and its panic button feature helps users through their anxiety using breathing equipment and stress management exercises.
Features of Rootd App:
It guides body scans and visualizations.
It provides journals to gain confidence.
In this app feelings can be expressed with the help of stickers.
It provides an emergency contact feature to connect directly with the app with the friendly voice of your loved one or nearby help center.
Rootd helps to find calm through meditation and helps to practice deep breathing. It is a really good app to understand anxiety and the symptoms that come with it. Free to download and use, but a paid subscription is required to access more content.
Simple app that talks about meditation and mindfulness on various topics such as anxiety, stress, sleep, and physical exercise.
Features: Headspace App:
This app helps to focus, breathe, stay calm, and create balance in life.
This app teaches you how to live meditatively and mindfully, with sessions directed on stress management, happiness, flexibility, physical health, and more.
It helps to learn to meditate in just minutes a day and to drift off with sleep stories and music.
It includes sleep meditations, relaxing sleep music, and sleeping casts to guide to be calm.
Review: Headspace App
It is a great and simple app for beginner learning as well as more meditative mediators who want to deepen their practice. The content in this app is incredible in its quality and breadth.
It is free to download and use, but a paid subscription is required to access more content. It is a great app for not only practicing meditation but also a fantastic guide for a better understanding of the mind.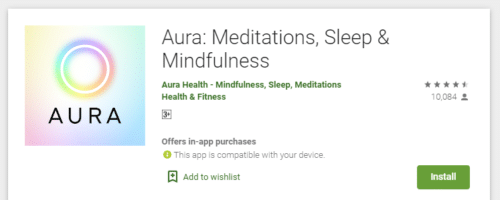 This app combines your current mental state with the best meditation or relaxation strategies to reduce stress and anxiety, improve sleep as well as increase happiness.
Features: Aura App
This app includes meditations, life coaching, and stories from top coaches and therapists around the world.
Aura app includes a meditation for sleep, as well as sleep stories, and music to help with insomnia.
It provides a perfect wellness coach who wants to learn to meditate, especially for stress and anxiety relief.
This mental health app helps to sleep better, reduce stress, and to find peace.
Review of Aura App:
Aura is a great app for meditations, sleep & mindfulness. It brings peace, tranquility, and love to life and it is very good for uplifting and life-changing abilities.
Aura App improves sleep habits and it is great for anxiety and it changes the way of looking at things. Free to download and use, but a paid subscription is required to access more content.
Who are in CBT for insomnia with a health provider or who have experienced insomnia symptoms and want to improve their sleep habits.
Features of CBT-I Coach App
This app guides users through the process of learning about sleep.
It helps to develop positive sleep routines.
It offers a structured program that teaches proven strategies to help improve sleep and reduce insomnia symptoms.
This app provides reminders and also helps to change the perspective.
This app provides a diary to note down your sleeping times.
Review: CBT-I Coach App
It is for beginners and for those who are in CBT therapy. CBT-I Coach app helps in tracking sleep time. It provides a manual sleep diary and visual graphs that help to see sleeping behavior and patterns.
Dialectical Behavior Therapy (DBT) is a popular form of therapy in the treatment of mental health disorders. DBT Skills Card Diary is for DBT students and others who want to learn DBT.
Features of Simple DBT Skills App:
It includes 28 DBT skills with descriptive reminders, skill examples, and a calendar, all set against beautiful graphics.
An easy daily reminder you can set to do DBT skills for specific times.
Evaluation of anxiety and depression can be done using the modified K10 test.
Custom tracking data can be added to this.
In this app, you can add your own music to DBT Skills Diary to make the experience more entertaining.
It also helps to track target behavior and your response to them.
It helps to track progress from anywhere at any time.
Review: Simple DBT Skills App
Simple DBT Skills App is for those who are familiar with DBT. It increases awareness and frequency of using DBT skills.
UP! app has a daily journal feature to track and alert warning signs of depression and mania as well as emotions and habits. It helps to manage, monitor, and analyze signs of personality disorder, depression, and bipolar disorder.
Features of UP! App:
Up! app helps to monitor and analyze symptoms of people with bipolar disorder.
The app helps people to treat depression, anxiety disorder, panic attacks, and PTSD using CBT.
It enhances the ability to differentiate between normal mood and symptoms of illness.
It helps to better understand the psychology behind your mood.
Review: UP mental health App
UP! app is for beginners. This app is helpful to keep track of moods. It helps to manage emotions as well as to be accountable for them.
Mental health app that focuses on issues that fit well into the 12-step recovery model.
Features: Letgoh App:
This app provides inventory tools, sponsorship assistance, and attention to help users reduce or quit their addictions.
Assists and supports a 12- step recovery process.
Specially designed to guide silent meditations for 12- step recovery.
Suitable for those addicted to alcohol, drugs, gambling, sex, food, and codependency.
It contains inventory lists for the 10th and 11th steps and also daily tracking of progress and meditation.
Review: Letgoh App:
Letgoh app is familiar with a 12-step program. It is an extremely popular app with a very nice concept of 12-step recovery. This helps to start the day with mindful spirit.
In this post, we have discussed top 10 mental health apps that help to do meditation. And also cope with anxiety, depression, sleep, pain, difficult emotions, and also helps to evoke negative emotions.
These apps can be helpful to people struggling with issues such as depression, anxiety.