Starting a relationship is fun, but making it last is hard work. In this blog, we have discussed a few tried-and-true tips to make your relationship stronger.
You might be looking for ways to improve your relationship with someone you are currently in a long-term relationship, whether you have been dating someone for a while, live with someone, or are married.
Maintaining healthy relationships is not like holiday romance stories or romantic comedies that end in one or two conflict resolutions. It doesn't have to be hard.
It's easy to forget about your partner when you have so many responsibilities and nerves. Just keeping up with all of life's responsibilities–work, kids, family, friends, neighbors, your home–is taxing, and many of us are plain tired. It's easier to ignore your relationship problems or stagnant relationships during difficult times.
These tried-and-true ways can improve your relationship. Be a good listener, make time for each other, have fun, share your sex, and do away with the chores. These methods have been confirmed effective by relationship professionals. However, there are seven other ways you can bond with your partner and improve your relationship.
6 Amazing Tips To Make Your Relationship Stronger
1. Making time for each other
You should make time for romance. It doesn't need to be called "date night", if it sounds to cliché, but you should set a goal to spend quality time together at least once a week.
This can be done on date night as well, by cooking together and then going to the movies. Or you can spice it up and try something different every time. You can create a romantic atmosphere at home by lighting candles and listening to soft music.
No matter what you do, ensure you make time for your time together. If you go to a concert together, it won't be possible to have meaningful conversations. Always look nice and tell your partner how much you love them.
2. Talk to your partner every day
Even though your lives can get hectic, it is important to make time for each other. Talk to your loved ones at dinner or over the phone. You don't need to share every detail of your lives with your loved one, but you should get comfortable with each others' routines.
When you are spending a week apart, make sure you take at least 15 minutes each day to get to know your loved one and remind him how much you miss him. Talking should not be interrupted. If you are also playing the game or checking your phone, it is not talking.
3. Be honest
If you are disappointed by someone, don't be afraid of telling them. It's better, to be honest with your feelings than to act passive-aggressive if you are upset.
Your feelings can be shared with your loved ones. Don't be ashamed if you are really upset by something at work, or about something your mother has said.
Be aware of when to refrain from saying something. Although honesty is the best policy, it doesn't mean you have to tell your loved one everything. You might not like his new shirt, or find one of his friends annoying.
4. Compromise
In a relationship, being happy is more important than being always right. if you want a long happy relationship, learn to make compromises and find a way both of you could be happy in a decision.
Have your loved one rate how important the decision is to you on a scale of 1-10. Then, have them give you a chance to agree to disagree. Here's how it works: Have your loved one rank the importance of the decision on a scale from 1-10. Then, state how important it is to you. Talk about why it is important to you and what you can do to make it less important.
Always be thoughtful. Be thoughtful.
You can take turns making small decisions. Let your girl choose the movie if you chose the restaurant for date night.
Both people should be open to compromise. If your parthner is always giving in to what you want in the end because you are more stubborn, it's not possible to compromise.
5. Go to sleep together
You may have already heard that Indians don't get the seven to eight hours of sleep they need. Did you know that your partner and you can have different bedtimes?
To have a better relationship, both of you should go to bed at the exact same time. You can have night owls or early birds, and you might also find people who sleep in while their partner is working in the bedroom. No matter what situation you may be in, sync your bedtimes.
Couples who do not go to bed together can have negative consequences. People with unmatched sleeping patterns have more conflict, less communication, and less sex than couples who sleep together. But, this doesn't give you the go-ahead to scroll through your Instagram while you're both in bed.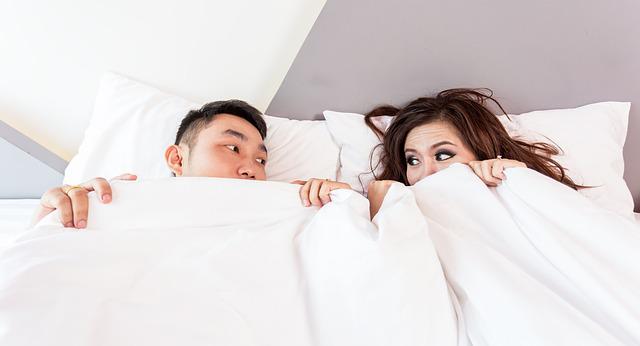 Research shows that screen time has a negative impact on couples. According to a Pew Research survey, people are annoyed by their partner's use of mobile devices.
51% Many people in a relationship, whether they are married or living together, say that their spouse is distracted by their phone when they try to talk to them.
4 out of 10 partners are at least occasionally bothered by their partner's cellphone use frequency.
6. Surprise your partner with small things
You can keep the spark alive by small gestures and remind your partner that you care. Happy couples show kindness to one another. Volunteering to help others is a great thing. Acts of kindness can be powerful and unplanned actions can fuel well-being.
Respect your partner's love language. They hug you because they love physical touch. Because you value quality time and service, it would make you even happier if they did the dishes or cleaned up the living area. Learn how to show your partner love in a way they value.
How to surprise your partner?
Grab a cup of coffee
You can volunteer to do one of the chores
Send provocative text
Hug your partner
Get to know your loved one at work
Give your partner chocolate
Eye contact is essential and active listening
Wrap a small present
Stick a sticky note to the car's front door or steering wheel
Conclusion
Strong relationships are not something that just happens. You have to put in the effort to build a strong relationship with your partner. These 6 tips to make your relationship stronger. A healthy relationship is essential for living a happy life. Research shows that it is not personality or compatibility which keeps couples together. Instead, it is how they interact with one another. How they talk to each other and how they get along. If they are focused on building a strong relationship, they will be successful. Go can also go for relationship counselling in case you are facing issues in your relationship.
Also, Read
Life Coach Career In India: Top 6 Quality Of A Life Coach
How To Spot A Lie Of Anyone? 8 Ways To Spot A Lie
5 Bad Effects Of Web Series On Children
Tips for Self Growth – Mistakes you Should Avoid In Self-Growth